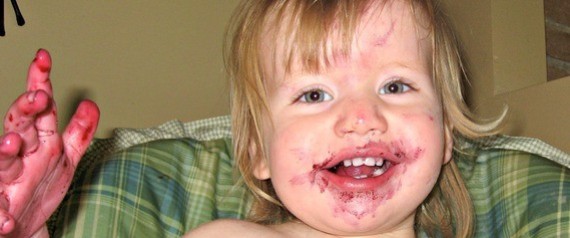 9 Indisputable Truths About Kids and Dinnertime
From: huffingtonpost.com
Don't get me wrong. Mealtime isn't bad when you're a parent; it's just different. Kids change your life in innumerable ways. This change can be good most of the time. The rest of the time, it's… challenging. Mealtime can go either way! Here are nine indisputable truths about kids, parents and dinnertime.
Stop Telling Me It All Goes By So Fast
From: mylifesuckers.com
Not surprisingly, the graham crackers that were off limits were enticing to all the preschoolers. But the children who had worked hardest in the clicking task — the "reactive" ones — also had the strongest response to the forbidden food.
10 Ways to Empower Your Kids to Be Better Humans
From: babble.com
How do you empower kids and send them out into the big huge world with a sense of self worth and confidence that gives them an upper hand in both their personal and professional relationships? Here's a few things I've learned in getting my own baby to nine, I'm not saying I've done perfectly, but it sure is nice to see things I tried so hard to teach her begin to take hold and serve her well in her day-to-day life.

Why Daydreaming Isn't a Waste of Time
From: kqed.org
Parents and teachers expend a lot of energy getting kids to pay attention, concentrate, and focus on the task in front of them. What adults don't do, according to University of Southern California education professor Mary Helen Immordino-Yang, is teach children the value of the more diffuse mental activity that characterizes our inner lives: daydreaming, remembering, reflecting.

Dear Parents of Young Children It gets Better
From: elephantjournal.com
Sometime after children turn four or five years old, things start to change. No longer is there a risk that if you turn your back for a moment too long your child may die. For the first three years of life this is a true risk.
A young child can choke, run into a road, fall off a slide; they are clumsy and unaware of their environment and as their parent it's our responsibility to ensure that they are protected. This is the plain truth.